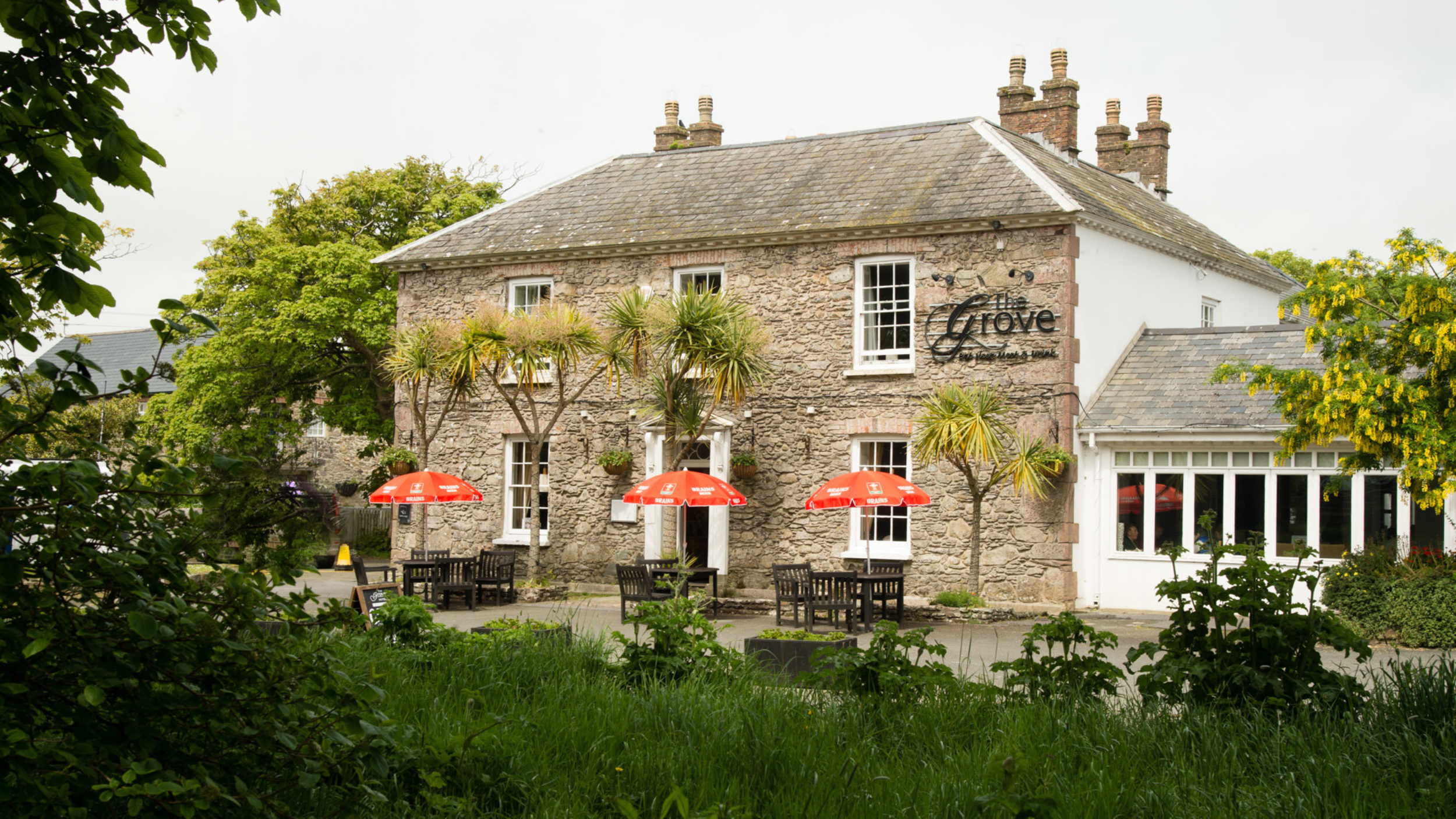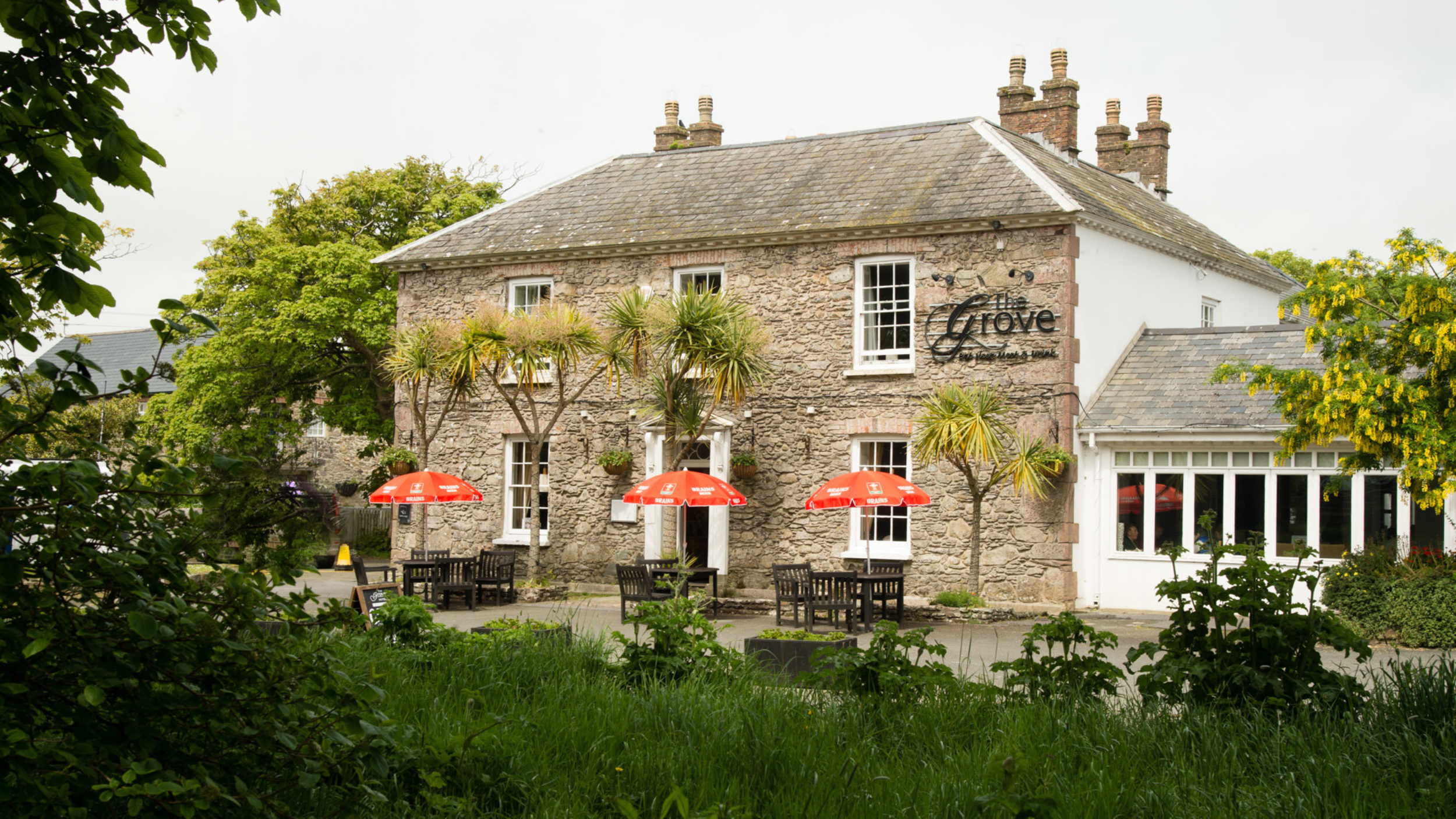 (V) Vegetarian
(Vg) Vegan
(WP) Welsh Produce
Download PDF
Enjoy for £17.00pp
This menu is available from November 22nd - December 30th. Not available on Christmas Day.
To book a table for the Festive Menu please download the menu, mark your preferred menu choices and email or drop your order to your pub of choice.

We will be taking a £5.00 non-refundable deposit per person on booking.

For allergen information, please see link below:-
Allergen Information
FESTIVE FAYRE £17

STARTERS

French Onion Soup (V) (VG)

with Welsh Cheddar croûte, white tin loaf bread and Welsh butter
Make it vegan - without butter and cheese

Classic Prawn Cocktail
served on a bed of baby gem lettuce, with a home-made seafood sauce,
malted tin loaf bread and Welsh butter

Penderyn Whisky & Chicken Liver Pâté
served with toasted sourdough, Welsh butter and our Brains beer chutney

Red Onion, Cranberry & Brie Tart (V)
served with a balsamic glaze and salad garnish

MAINS

Slow-Cooked Beef Daube
served with roast potatoes, seasonal vegetables, home-made Yorkshire pudding, pigs in blankets, sage and onion stuffing and our home-made beef dripping & Rev James gravy

Traditional Roast Turkey
served with roast potatoes, seasonal vegetables, home-made Yorkshire pudding, pigs in blankets, sage and onion stuffing and our home-made beef dripping & Rev James gravy

Champagne Salmon
grilled salmon fillet with a Champagne hollandaise sauce, served with potato gratin and seasonal vegetables

Parsnip & Swede Rosti (V) (VG)
finely shredded root vegetables loaded with a spiced cranberry relish and topped with indulgent Brie cheese. Served with roast potatoes, seasonal vegetables and vegan gravy
Vegan option available without the Brie

DESSERTS

Raspberry & White Chocolate Roulade (V)
served with double cream

Chocolate Orange Brownie (V)
served with Mario's Vanilla Pod ice cream

Christmas Crumble (V) (VG)
with festive custard
Vegan option available served with plant-based cream

Sicilian Lemon Tart (V)
a zesty, citrus tart served with a scoop of Mario's Prosecco sorbet
and a drizzle of honey













TERMS & CONDITIONS

T&C's - 1. A deposit of £5 per adult diner is required – payable upon booking. This deposit is non-refundable. The balance of monies must be paid on the day. 2.
Please be prompt, as we can only guarantee your table for 15 minutes. 3. We promise not to pass your information on to third parties. Data is held in compliance
with the Data Protection Act 1998. Data controller: Marston's PLC, Marston's House, Brewery Road, Wolverhampton WV1 4JT. 4. Alcohol may only be purchased
by persons aged 18 years or over and photographic identification may be required at the party. 5. Vouchers and promotional offers are not valid when dining from
this menu. 6. Bookings are valid for dining from this menu only. 7. - Suitable for vegetarians or vegetarian option available. – Suitable for vegans or vegan
option available. We regret that we cannot guarantee that our fish/turkey/chicken/beef dishes do not contain bones. Allergen advice Due to the way our food and
drink is prepared it is not possible to guarantee the absence of allergens in our meals and drinks and we do not make a "free from" claim. Our allergen information
only states allergens if they are an ingredient of a product. We do not include 'may contain' information. Our menu descriptions do not include all ingredients. Full
allergen information is available. Please speak to a member of staff should you have any concerns. 8. Prices include VAT. 9. We reserve the right to change, amend
or withdraw this offer at any time without prior notice. 10. – Contains alcohol